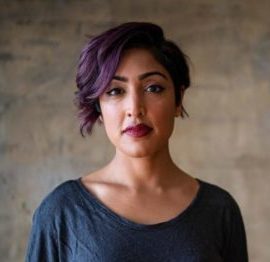 Rumman Chowdhury
Global Lead, Responsible AI, Accenture
Rumman Chowdhury's passion lies at the intersection of artificial intelligence and humanity. She holds degrees in quantitative social science and has been a practicing data scientist and AI developer since 2013. She is currently the Global Lead for Responsible AI at Accenture Applied Intelligence, where she works with C-suite clients to create cutting-edge technical solutions for ethical, explainable and transparent AI. Rumman has been featured in international media, including the Financial Times, Harvard Business Review, NPR, MIT Sloan Magazine, MIT Technology Review, BBC, Axios, Cheddar TV, CRN, The Verge, Fast Company, Quartz, Corrierre Della Serra, Optio, Australian Broadcasting Channel and Nikkei Business Times. She is a member of
BrainTrust
, a community of experts for Protocol, a tech magazine by Politico. She is a TedX speaker, a Forbes Tech contributing author and has been named by InformationWeek as one of 10 influential AI and machine learning experts to follow on Twitter. She was also named one of BBC's 100 Women for 2017, recognized as one of the Bay Area's top 40 under 40, and honored to be inducted to the British Royal Society of the Arts (RSA). She has also been named by Forbes as one of Five Who are Shaping AI. Rumman serves as co-chair of the RSA's Citizen AI Jury and actively participates in IEEE standards committees, the Partnership on AI, as an advisor to the UK House of Lords Parliamentary group on AI, and other global AI and ethics organizations. She has presented at multiple international governing bodies, including the United Nations, the OECD and the UK Parliament. She also serves on the board of
AI4All
, a group dedicated to drawing underrepresented groups into STEM, and
Patterns
, a data science journal by the publishers of Cell. In her work as Accenture's Responsible AI lead, she led the design of the Fairness Tool, a first-in-industry algorithmic tool to identify and mitigate bias in AI systems. Dr. Chowdhury co-authored a Harvard Business Review
piece
on it's influences and impact. Dr. Chowdhury holds two undergraduate degrees from MIT, a master's degree in Quantitative Methods of the Social Sciences from Columbia University, and a doctorate in political science from the University of California, San Diego.
2020 Panel: Frontiers in Data Intelligence
Moderator:
Pieter De Leenheer
Panelists:
Rumman Chowdhury
Helen Nissenbaum
Amit Shet
Jim Short
Julia Stoyanovich
View the complete panel talk in the
KGC media library
.