REGISTER NOW:
MAY 8 – 12, 2023
@CORNELL TECH ON ROOSEVELT ISLAND, NEW YORK
& GLOBALLY ONLINE!
For updates on speakers & sponsors follow & join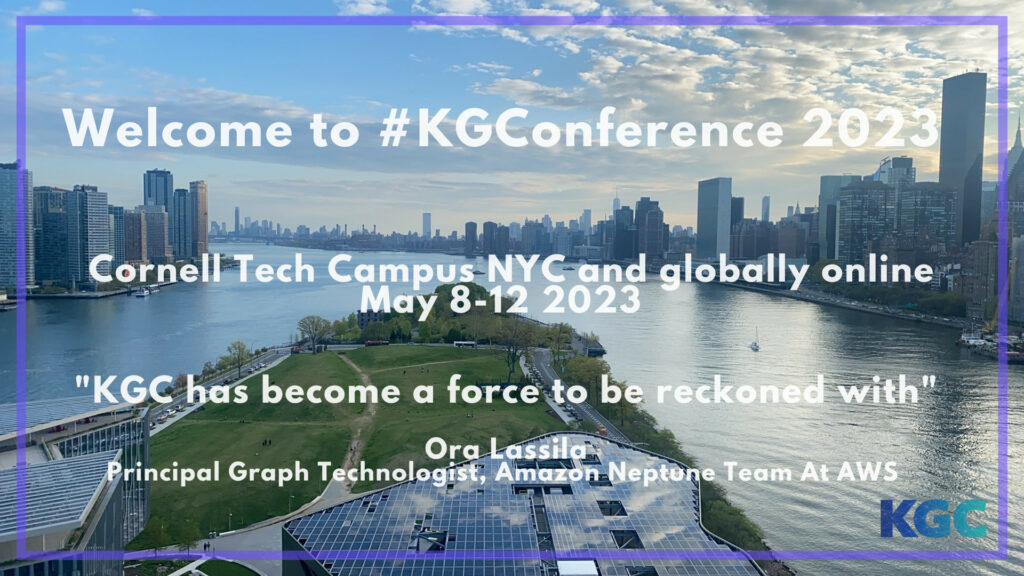 Track Chairs & Speakers
Aaron Bradley

Electronic Arts

Dean Allemang

Data.world

Qi He

Nextdoor

Larry Swanson

Elless Media

Violeta Ilik

Adelphi University

Huda Khan

Cornell University

Chaitan Baru

UC San Diego

Ron Bekkerman

Cherre

Pascal Hitzler

Kansas State Uni
The Knowledge Graph Conference 2023
The Knowledge Graph Conference will be held from May 8 – May 12, 2023, at Cornell Tech in New York City.
The Knowledge Graph Conference is a five-day conference extravaganza: two days of masterclasses and workshops, two days in-person, and a one-day demo track
KGC 2023
KGC's latest updates regarding the upcoming Knowledge Graph Conference 2023: new speaker and partners announcements, registration updates, competitions, and awards, as well as how to submit your product for consideration in a virtual start-up/investor pitch event.
KGC Talks
The latest content published online: keynotes, panel discussions, masterclasses, and workshops from the KGC Academy