Book Club: The Knowledge Graph Cookbook, with Andreas Blumauer, Helmut Nagy
Book Club: The Knowledge Graph Cookbook, with Andreas Blumauer, Helmut Nagy. Featuring Heather Hedden and Dean Allemang
Recipes for Knowledge Graphs that Work
Learn why and how to build knowledge graphs that help enterprises use data to innovate, create value and increase revenue. 
This practical manual is full of recipes and knowledge on the subject.
Learn more about the variety of applications based on knowledge graphs.
Learn how to build working knowledge graphs and which technologies to use.
See how knowledge graphs can benefit different parts of your organization.
Get ready for the next generation of enterprise data management tools.
CLICK HERE TO GET THE COOKBOOK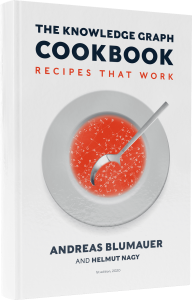 NOTE: Bookclub members who have registered for the club will receive the details for each zoom session on Saturday November 6th via email. Please feel free to book the dates on your calendar. Sessions will be taking place between 11am-12pm Eastern Time.
SESSION 3: Deep dive into selected chapters part 2


November 29, 2021




11:00 am - 12:00 pm

SESSION 4: Workshop on using Pool Party


December 6, 2021




11:00 am - 12:00 pm

SESSION 5: Office hours for Pool Party


December 13, 2021




11:00 am - 12:00 pm
We're sorry, but all ticket sales have ended.
---